Why Cordata?
Most behavioral health programs are challenged to consistently assess incoming patients from many different referring locations and struggle to maintain complete lists of providers, services and locations available to their patient population. Patients are referred from multiple locations – including specialties like ortho, spine, comprehensive pain and oncology with frequent behavioral health co-morbidities. Programs generally need to engage and coordinate multi-disciplinary clinical teams for effective treatments.
Cordata Behavioral Health enables healthcare to coordinate behavioral health patients throughout their treatment journeys, which can last a lifetime.
A simple-to-use triage component identifies the source of the referral and appropriately directs patients for initial care.
A comprehensive patient record includes all prior history and treatments as part of a longitudinal view that includes the current care plan.
A cloud-based architecture makes this information available to all members of the care team, regardless of their local EMRs, enabling clinicians to collaborate, effectively monitor treatment progress and refine the care plan over time.
Cordata's patient engagement capabilities prompt patients to undergo routine distress assessments, quickly identify symptoms that can lead to readmissions and prompt proactive and corrective actions.
Using Cordata Cardiovascular, Healthcare Organizations Can: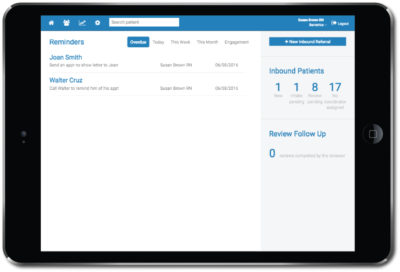 More consistently assess the patient's medical history upon initial referral
Appropriately and consistently direct patients into initial treatment, based on clinical programs, care settings and location
Decrease outmigration and non-compliance through frequent and proactive follow-up
Enable collaboration within multi-disciplinary clinical teams through a central, cloud-based coordination system
Improve interaction and awareness between patients' co-morbid specialty programs
Automate collection of patient-reported outcomes of distress, psychological state and other symptoms
Increase Patients. Decrease Costs. Increase Revenue.
Improve your business Results and clinical outcomes today.