Why Cordata?
Managing cardiovascular patients can be complex and challenging. The cardiovascular team diagnoses and treats disorders of the heart and blood vessels such as congenital heart defects (starting from birth), coronary artery disease, heart failure, valvular heart disease and more. To be effective, cardiovascular programs must engage a multi-disciplinary clinical team. Some patients require long-term care management and others surgical intervention. The multiple locations, clinicians and pathways, of cardiovascular disease – combined with extended treatment timelines, require deep coordination activities to achieve optimal outcomes and team efficiency.
Cordata Cardiovascular solution helps healthcare coordinate cardiovascular surgery and cardiology patients from initial referrals and care planning, through to ongoing care plan management and best-practice outcomes reporting.
A simple-to-use triage component identifies the appropriate next steps for patients, based on their medical history or current cardiovascular symptoms.
A specialty-driven patient record includes all prior history and treatments as part of a longitudinal view that includes the current care plan.
The cloud-based architecture makes information available to all clinicians on the care team, regardless of their local EMR.
For surgical candidates, Cordata's patient engagement solution encourages patient reporting of outcomes, routine distress assessments, and early identification of symptoms so coordinators can intervene to reduce ED visits or readmissions.
For long term care management such as CHF or angina, Cordata's patient engagement solution offers continual "touch-base" communication with patients on compliance with ongoing medication adherence and care plans.
Using Cordata Cardiovascular, Healthcare Organizations Can: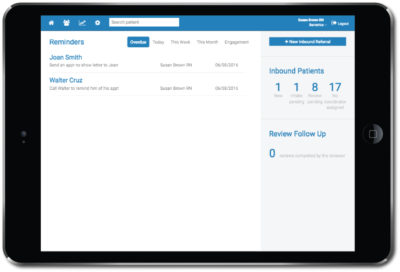 Gain visibility into referrals and patient flow
Coordinate activities of multi-disciplinary teams
Identify, risk stratify and manage complex issues for patients
Engage patients frequently to encourage achievement of treatment goals
Decrease surgical complications that result in readmissions or the need for ED visits
Increase Patients. Decrease Costs. Increase Revenue.
Improve your business Results and clinical outcomes today.