Why Cordata?
Managing chronic pain is a complex problem. Whether your approach is interventional and designed to relieve physical pain symptoms, or more comprehensive to address the physical, emotional, and psychological issues of a pain patient, it is difficult to track where pain patients come from and who is involved in their care.
Cordata for Pain provides an essential solution for coordinating care for chronic pain patients. A simple-to-use triage component identifies the source of the referral and the appropriate place to direct patients for early care. A comprehensive patient record makes all prior history and treatments part of a longitudinal view that includes the current care plan. And all members of the patient's care team can collaborate to effectively monitor treatment progress and adapt the care plan over time.
Using Cordata Pain Solutions, Healthcare Organizations Can: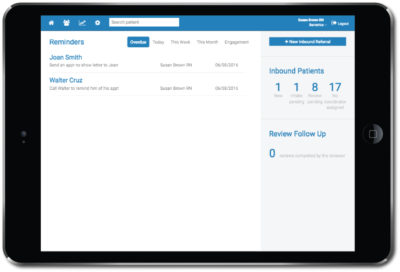 Improve compliance with treatment recommendations
Decrease need for ED visits
Reduce risk of opoid adverse events
Increase function and quality of life for chronic pain patients
Justify reimbursement for CMS care coordination activities
Improve outcomes for surgical procedures
Increase Patients. Decrease Costs. Increase Revenue.
Improve your business Results and clinical outcomes today.