Why Cordata?
Palliative care programs are challenged to access medically-necessary referrals at varying stages of palliative care – from pain management or psychosocial distress management during treatment to complex end-of-life care (hospice). Patients can be self-referred or referred from multiple complex specialties like orthopedics, cardiology, oncology, etc. Cordata easily integrates Palliative Care into its complex specialties or offers it as a stand-alone product.
Cordata understands that Palliative Care is a necessary complementary service to most complex diseases and needs to go hand-in-hand with those care coordination activities. Our palliative care product is easily deployed in tandem with our other complex disease products like oncology or musculoskeletal disease to ensure multidisciplinary case coordination and management.
Using Cordata Palliative Care, Healthcare Organizations Can: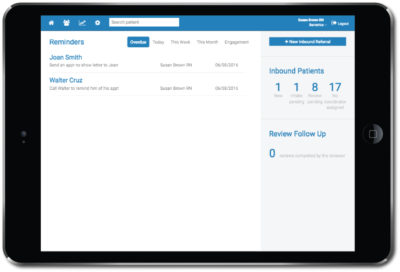 Ease of patient case referral from complex disease to palliative care
Information sharing and collaboration from complex disease team to palliative care team
Access to care plans/pathways like CARES, national organizations, the AHRQ Guideline Clearinghouse – or your own proprietary pathways
Increase Patients. Decrease Costs. Increase Revenue.
Improve your business Results and clinical outcomes today.