Why Cordata?
Managing patients in transition can be the most difficult kind of care coordination – as these patients are so easily lost from the system. Patients are constantly transitioning from inpatient discharge to home, inpatient to skilled nursing, inpatient to home health, outpatient discharge and more. The patient experience doesn't end at the hospital exit. Patients need consistent guidance and support at every step of their healthcare journey. The Transitional Care team must manage education, care team communication, transportation, patient satisfaction, community follow-up, outreach, medication adherence, monitoring to prevent readmission or adverse events and tracking.
Cordata Transitional Care solution helps transitional care teams coordinate and manage patients transitioning from one level of care to another, from the complexities of inpatient to SNF to the simple outpatient discharge pairing of a patient with a PCMH or primary care providers. The Cordata platform supports the beginning of care with a simple admission or a care plan kickoff, to deep disease-based care planning, through to discharge-focused care management and best-practice outcomes for value-based care reporting.
Simple-to-use assessment tools assist care coordinators with gathering distress and care benchmarks at discharge or other pivotal events.
A specialty-driven patient record includes all prior history and treatments as part of a longitudinal view that includes the current care plan and future events.
The cloud-based architecture makes information available to all clinicians on the care team, regardless of their local EMR.
For long term care management post-admission, Cordata's patient engagement solution offers continual omni-channel communication with patients to ensure high satisfaction, on compliance with ongoing medication adherence, management of symptoms, care plan communication, appointment reminders, ongoing education and much more.
Using Cordata Transitional Care, Healthcare Organizations Can: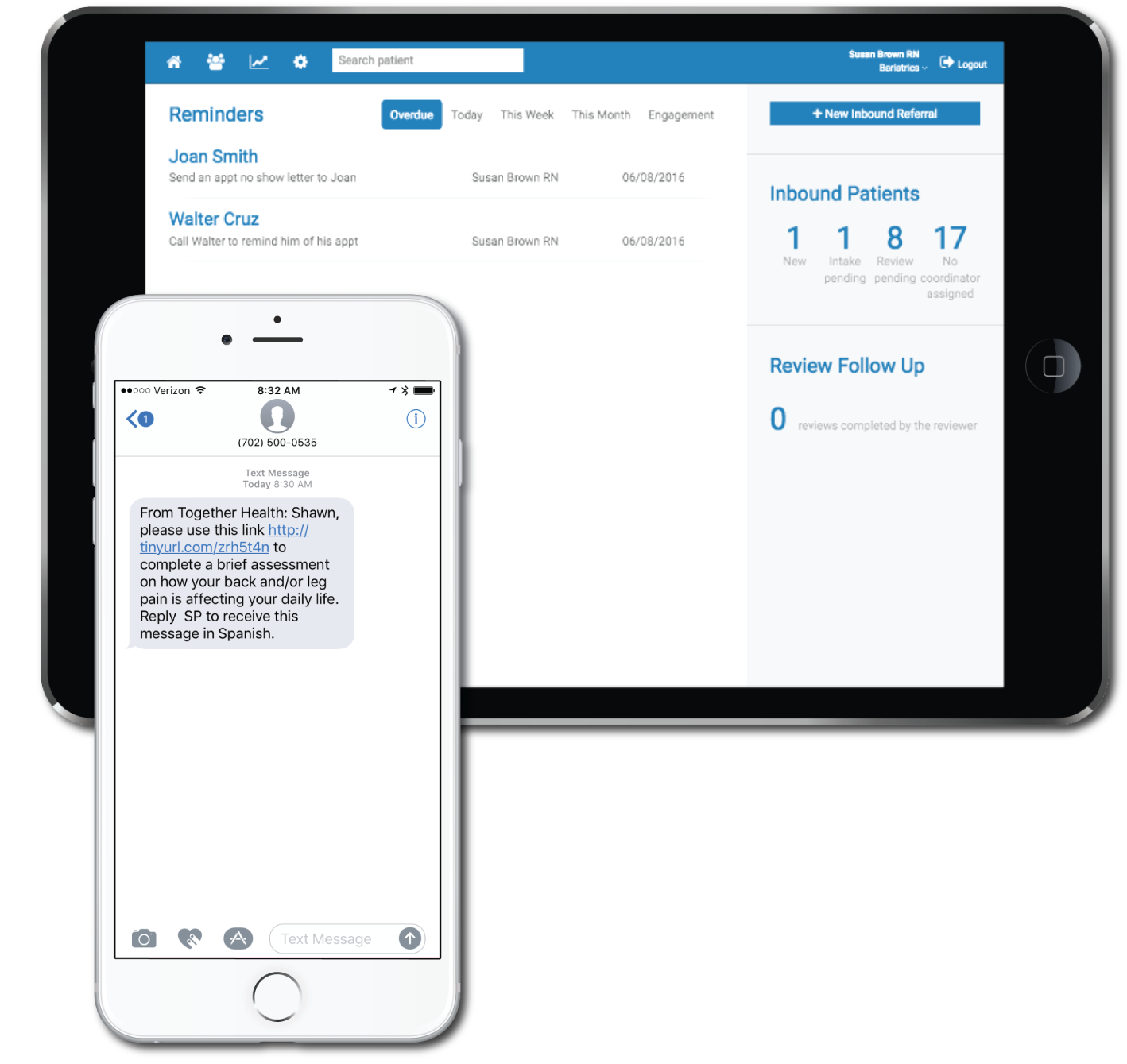 Gain visibility into referrals, admission, discharges and patient flow
Coordinate activities of multi-disciplinary teams
Identify and manage complex issues for patients that affect compliance
Engage patients frequently to encourage achievement of treatment goals
Decrease readmissions or the need for overutlization such as ED visits for primary care services
Increase Patients. Decrease Costs. Increase Revenue.
Improve your business Results and clinical outcomes today.