The opioid crisis isn't just about addiction or criminal behavior. It won't be solved by law enforcement, healthcare organizations or support groups acting alone. It's about the entire community and requires a comprehensive, coordinated response among:
Healthcare organizations, including primary care, physicians, emergency departments and addiction and behavioral health specialists
Elected officials, law enforcement communities and the foster care system
First responders, community leaders, support counselors, committed volunteers and nonprofit organizations
The people affected by the crisis, including users and their families
CORDATA COMMUNITY: ENABLING PERSISTENT OUTREACH, ENGAGING INVOLUNTARY POPULATION, IDENTIFYING WHAT WORKS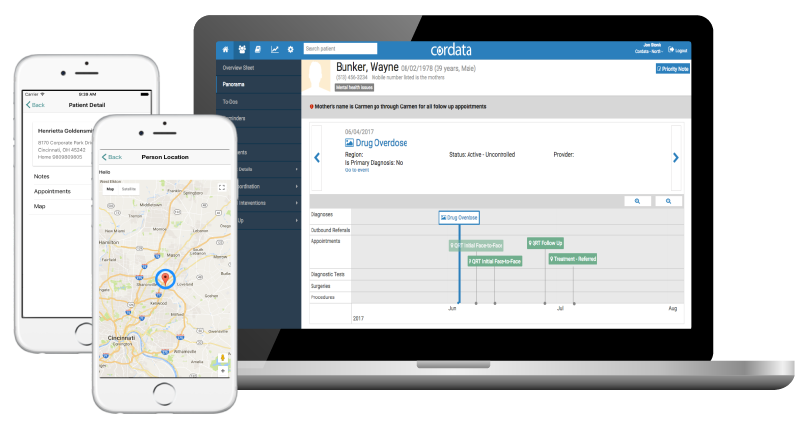 Cordata Community links all stakeholders with tools, technology and access to:
Establish a common database with common processes and workflows, aligned around common metrics and protocols for efficacy.
Promote more effective responses to overdoses.
Provide "Patient Panoramas" to track overdoses and response activities across jurisdictions and keep all stakeholders informed.
Engage opiate users to enter treatment and stick to treatment plans.
Provide timely alerts and reminders to ensure valuable follow-up actions are completed.
CORDATA COMMUNITY SOFTWARE SUPPORTS A CONSISTENT, REPEATABLE APPROACH TO SOLVING THE OPIOID CRISIS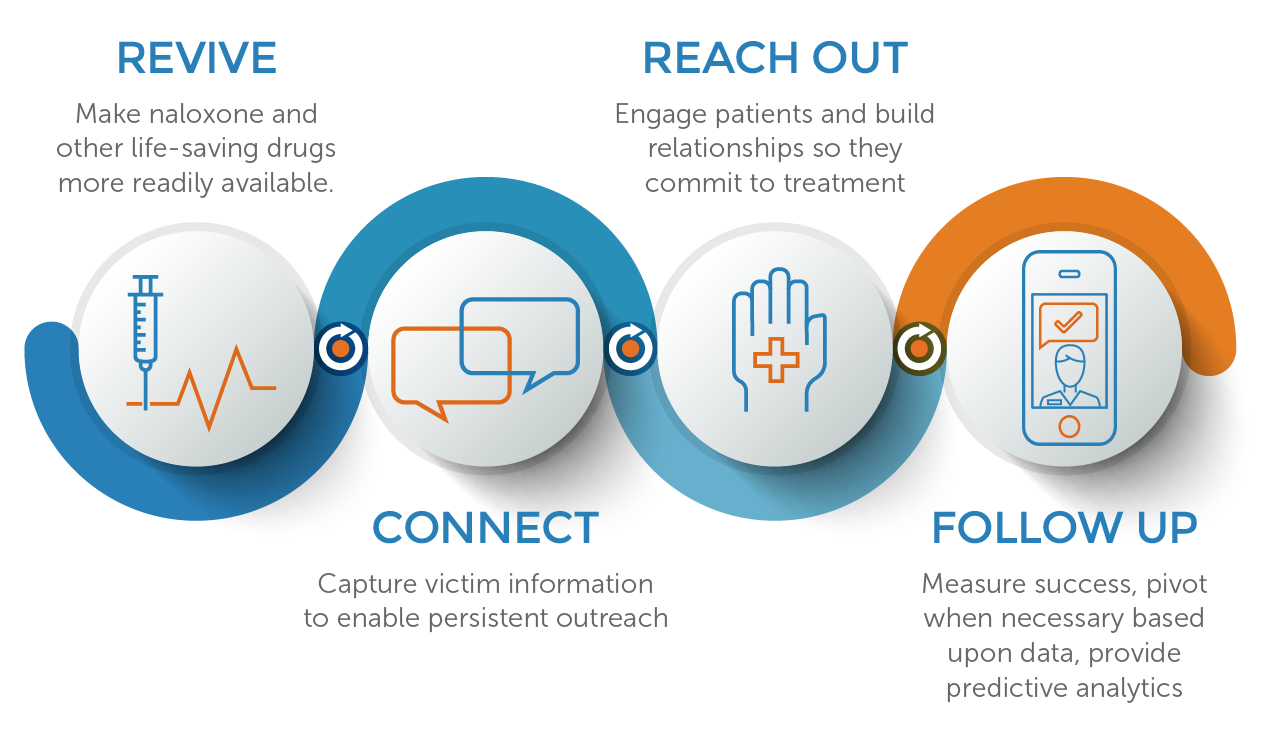 NO MORE "FALLING THROUGH THE CRACKS"
With a centralized database of current information and a Web-based mobile app that can be used by all first responders, law enforcement and support teams, our goal is to ensure that:
No one falls through the cracks – tracking, communication and engagement of a population that needs ongoing outreach.

It's possible, at intake, to define and segment sub-populations to apply the most effective pathways and protocols for individuals.

Stakeholders understand what works in terms of effective intervention, treatment and prevention – the number, frequency and types of touchpoints and actions necessary to get users into treatment and complying with treatment plans.

Protected Healthcare Information (PHI) data is secure and public data is available to the stakeholders who need it.
The bottom line: Cordata provides tools and technology to improve the effectiveness and efficiency of those fighting the heroin and opiate epidemic.