Why Cordata?
Managing bariatrics patients can be complex and challenging. The typical treatment continuum ranges from outpatient-driven metabolic and weight management services to inpatient or acute events such as bariatric surgery. Patients may be referred from several points, including specialties like orthopedics and spine, or from primary care physicians (PCPs). To be effective, bariatrics programs must engage a multi-disciplinary clinical team. The multiple locations, clinicians and pathways, combined with extended treatment timelines, require coordination services to achieve good outcomes and overall efficiency.
Cordata Bariatrics solution helps healthcare coordinate bariatric patients from initial referrals and goal-setting, through to outcomes and tracking.
A simple-to-use triage component identifies the appropriate place to direct patients for initial evaluations and care.
A specialty-driven patient record includes all prior history and treatments as part of a longitudinal view that includes the current care plan.
The cloud-based architecture makes information available to all clinicians on the care team, regardless of their local EMR.
For surgical candidates, Cordata's patient engagement solution encourages patient reporting of outcomes, routine distress assessments, and early identification of symptoms so coordinators can intervene to reduce ED visits or readmissions.
Using Cordata Bariatrics, Healthcare Organizations Can: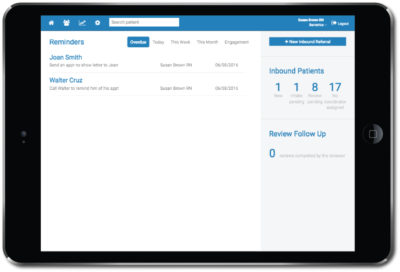 Gain visibility into referrals and patient flow
Coordinate activities of multi-disciplinary teams
Identify and manage complex issues for patients that affect compliance
Engage patients frequently to encourage achievement of treatment goals
Decrease surgical complications that result in readmissions or the need for ED visits
Increase Patients. Decrease Costs. Increase Revenue.
Improve your business Results and clinical outcomes today.